May 5, 2021
United Kotak Berhad's Ground Breaking Ceremony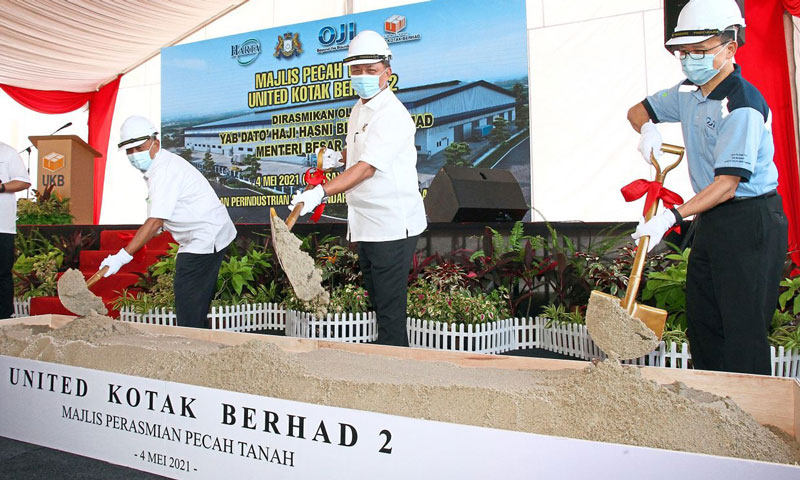 KULAIJAYA: Oji Holdings Corp is optimistic about prospects and opportunities of the packaging-related industries in Malaysia and the region.
According to senior executive officer Dilun Tan, despite the economic uncertainties brought about by the Covid-19 pandemic globally, the group recorded a significant growth last year.
He said the group registered between 5% and 7% growth in Malaysia and 3.5% in Thailand and Vietnam, mostly owing to an increase in online shopping following the movement restrictions imposed by the respective countries.
"We are on an expansion mode and will be investing millions of ringgit in the next one to two years to further strengthen our position in the Asia-Pacific, '' he told StarBiz.
Tan, who is also Oji Asia Packaging Sdn Bhd president and chief executive and United Kotak Bhd (UKB) chairman, said this after the ground breaking ceremony of UKB's second plant by Johor Menteri Besar Datuk Hasni Mohammad. He said the new plant in Kulai, costing RM150mil on a 4.04ha site in SME Industrial Park, Bandar Indahpura, would be the most Advanced Packaging plant in the world.
He said work on the project would start immediately and the plant is slated for completion in the first quarter of 2022 and would employ 300 workers.
"The second plant will provide us relief as our plants in Batu Pahat are running at 150% capacity and we need to capture the market or lose the opportunity, '' he said.
Tan said the new plant would give the company a strong footing to better deliver its existing clients and attract new ones.
Source: https://www.thestar.com.my/business/business-news/2021/05/05/oji-on-expansion-path-despite-pandemic
Click to watch the United Kotak Berhad's Ground Breaking Ceremony on 4 May 2021: